SRMHA Special Meeting & 2021-22 Season Parent Meetings
---
---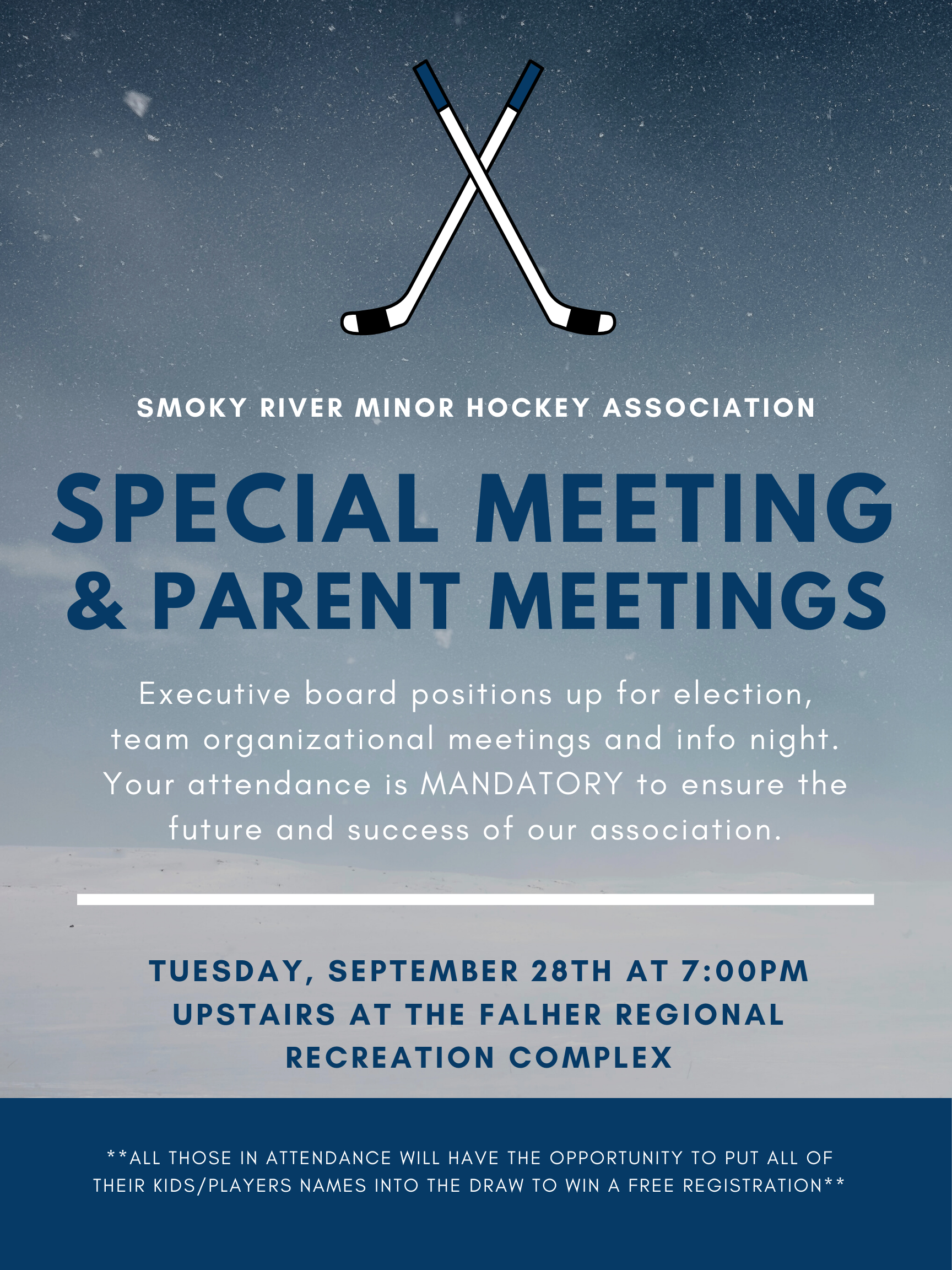 ---
Due to the lockdown in the spring we were unable to host our special meeting, the board then decided to wait till the fall as they anticipated there would be executive positions that would need to be filled for the upcoming season. Our special meeting will take place upstairs at the Falher Regional Recreation Complex at 7pm on Tuesday, September 28th. We ask that all members are in attendance as we will be breaking into our parent team meetings afterwards. This will help us properly welcome and orientate our new families, and prep our returning teams for a great 2021-22 season. All those in attendance will have the opportunity to enter all of their registered children's name in a draw for FREE REGISTRATION!
To help protect health, masking and physical distancing requirements will be in place. Please do not attend if you do not feel well or have any symptoms.
Please also note that we are awaiting further instructions from the facility regarding the Restriction Exemption Program, so please stay tuned.
*New registrants* Parents - you must complete the Respect In Sport - parent course https://hockeyalbertaparent.respectgroupinc.com/koala_final/ once completed you will need to send a copy of the certificate along with your legal land location (ex: SE-__-__-__-W5th) to our registrar Amber Boman at registrar@smokyriverminorhockey.com
**U7 parents, if you will be going out on the ice with your littles, you will also need your Respect In Sport Activity Leader course as well - https://ha.respectgroupinc.com/koala_final/ this also needs to be sent to registrar@smokyriverminorhockey.com
*** If you have not already made your registration payment you may bring your payment to the meeting, or etransfer to treasurer@smokyriverminorhockey.com . Registration fees are due before the athlete steps on the ice, payment plan is available, email us for details and KidSport Smoky River is now also accepting applications for support if needed! https://www.kidsportcanada.ca/alberta/smoky-river/
No Gala this year, raffle fundraiser only! We will also need to collect your fundraising bond cheques as follows as stated in our policies:
Fundraising : Each parent is expected to fundraise. Performance bonds must be provided at a value of $500.00 per player or $1000.00 per family, whichever is greater. Parents will be expected to provide equal performance bonds of $500; which will be post-dated November 1st, Dec 1st, Jan 1st and Feb. 1st, (if necessary) at the time of registration. Exceptions or alternate arrangements may be made at the Board's discretion for special/extreme cases
Ice Times are as follow:
U7 - Mon/Wed 5:30pm-6:15pm **First ice session will be October 13th, 2021**
U9 - Mon/Wed 6:15pm-7:15pm **First ice session will be October 4th, 2021**
U11 - Tues/Thurs 5:30pm-6:45pm **First ice session will be October 5th, 2021**
Covid symptoms screening will be required - please do not send your children to hockey with symptoms!
We are closely monitoring the ever changing COVID situation and we will continue to keep our registrants up to date.
If you have any questions or concerns, please feel free to contact us.
Thank you!
Pauline Therriault
Secretary
780-837-1717
secretary@smokyriverminorhockey.com